A trend that has been growing over the last few years and originally seen in the show gardens at the RHS shows including the RHS Chelsea Flower Show is the garden trend  : RUST.
Growing up with a grandfather and father who were obsessed with preventing rust on their garden tools and mowers it seems strange that 'rust' has become fashionable.
At the Chelsea Flower Show and other shows large slabs of steel, steel water tanks and bare metal girders featured and were allowed to rust creating excellent red brown backgrounds and frames that complimentary plants.
Successful and Practical?
Can this look be recreated successfully at home and is it practical? Much of the look of oxidised metal is actually paint on many products for our gardens and homes. This means no staining or treatments needed. There are some products such as obelisks, steel plant stakes and fire pits are available as bare metal or previously rusted. Stakes and plant tacks can be used without staining as any rust that runs will only affect the soils and compost.
Fire pits, like the one seen in these photographs, should be sited with care as rusty water will stain paving and deck boards.
Rusty Plants
Plants can suffer from a disease called rust that looks like steel or iron rust but here we are talking about plants with copper, rust or bronze coloured flowers and leaves.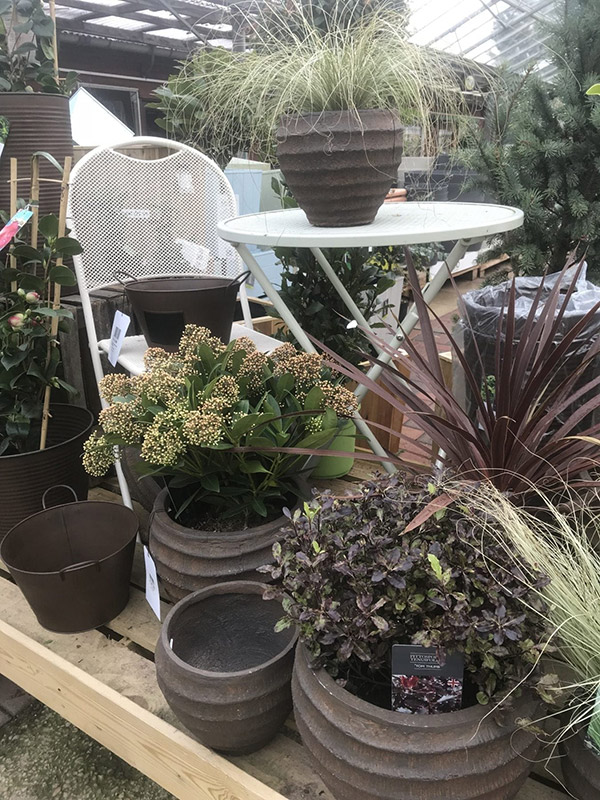 In these photos we can see Phormium, Pittosporum, and Skimmia rubella where the buds are burgundy red and open to a dusky pink. Red Cordylines are also a good evergreen for the Rust look for sheltered urban gardens. Flowers for later include the amazing copper and orange coloured varieties Bearded Iris. These are often seen in RHS Chelsea Flower Show gardens in recent years. Orange Geum are ideal too. Just search out flowering plants that are found in the dull red to orange spectrum.
Now it it's down to your artistic skills to arrange the materials, pots, stakes and plants to join the garden trend : rust.