Although summer can be very dry, when it will be essential for you to water your newly planted plants, you can make a long lasting and instant impact on your garden. Often summer gardens are very green. Spring flowering shrubs have now finished and quite honestly borders are just plain boring. Planting for summer colour is made easier as you can see the plants in flower in the garden centre and imagine them in your garden.Try grouping them in your trolley to see how they go together. Just like buying clothes.
The gems of the summer flowering garden are the plants we horticulturist call 'hardy herbaceous perennials', sometimes called cottage garden plants, or herbaceous plants. Basically this is a group of plants that generally die down to ground level in winter to burst into green growth in spring to flower from spring or summer depending upon the species. Don't ignore the shrubs too as there are many new varieties ideal for modern gardens.
Here are a list of our favourites.
Echinacea 'Cone Flower'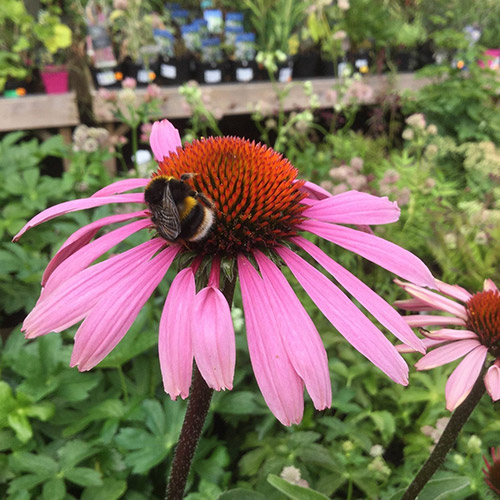 Echinacea flowers for weeks in summer starting in July through August into September. The large daisy like flowers are produced in upright stems to between 60-80cm. They are suitable for small gardens.   Now available in a variety of colours, they are attractive to butterflies and bees. Best in south and west facing sites in free draining soil that doesn't dry out.
Suitable acid, neutral and alkaline soils. Easy to grow.
Rudbeckia
Rudbeckia has bright yellow large daisy flowers in August, September and well into October. Some varieties are 90cm tall and some only 45cm tall. Upright growing and very hardy. They like moist but well drained soils but aren't fussy about acidity or soil structure. They grow in east, south and west facing spots and will take an exposed site. Easy to grow.
Buddleia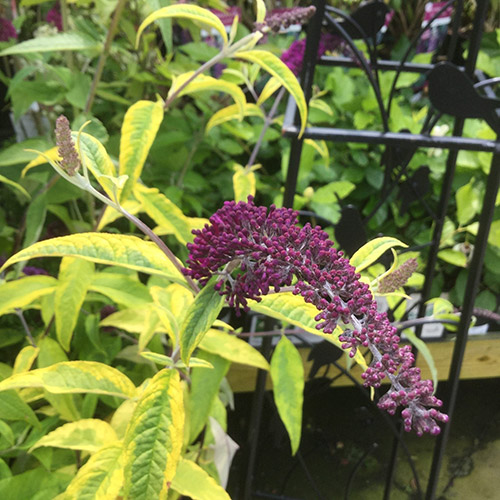 Buddleias are much loved summer shrubs producing many racemes of small scented flowers that beneficial insects love. Many 'wild' Buddleias take over, but pruned annually in March Buddleias stay shorter but still produce many flowers. For extra interest this variegated varieties adds more colour.
There are also a range of dwarf Buddleias called Buzz that are only 90cm x 90cm in size. These are suitable for small borders. Easy to grow.
Escallonia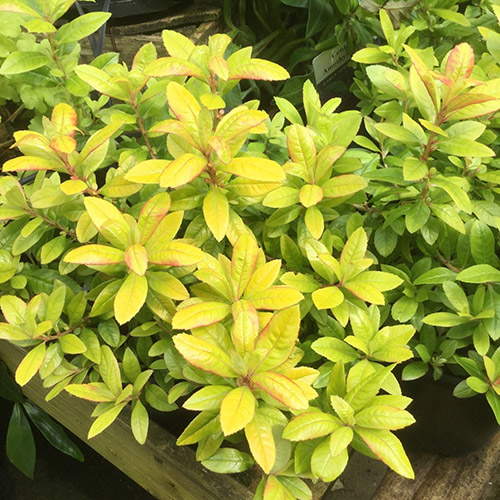 Escallonia is often a very large evergreen shrub that will take lot of pruning but does get very big otherwise. This variegated variety is much more compact, has fresh pink/red flowers all summer and it's evergreen foliage is bright and interesting all year round. For sun or part shade with the shelter of other plants around it it will survive even extreme winters. Grows to 1m x 1m. Suits most soils. Easy to Grow.
Hydrangea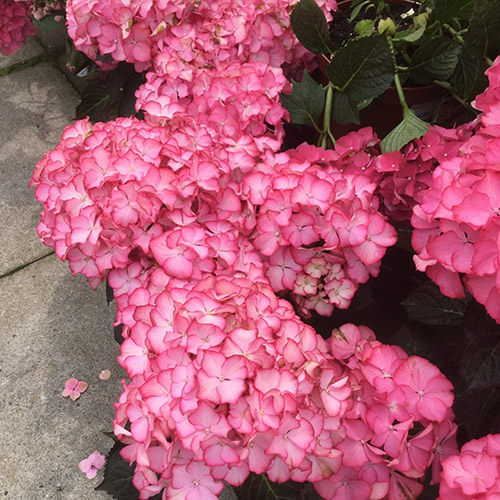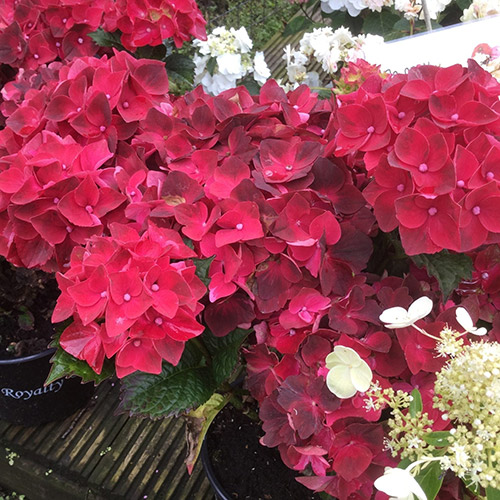 Hydrangeas are a must for all gardens. Some of the newer varieties are more compact but all give such a great show in summer. Whites lifts a shady border and the strong colours jump out from a border.
White Hydrangeas have been scorched in the intense heat this summer (2018), so we would suggest a shadier spot. Hydrangeas need a moisture retentive soil. Some summers extra watering may be necessary. Hydrangeas are happy in shade. Easy to grow.
Berberis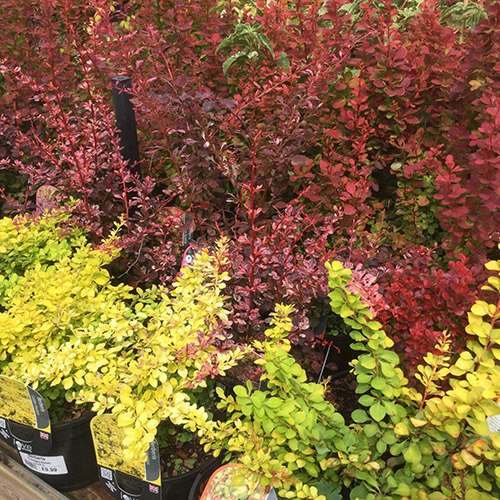 Berberis had grown out of fashion but the newer, brighter varieties are worth investigating. They are deciduous (loose their leaves in winter) but after small orange flowers in spring they produce amazing coloured leaves which then turn into fire coloured foliage in autumn.  They have thorns so beware, but that might suit some spots, particularly front gardens.
Varieties are available that grow to 30cm, 60cm, and 90cm. They grow in all soils in any aspect in sun or part shade.
Annual impact
Dahlias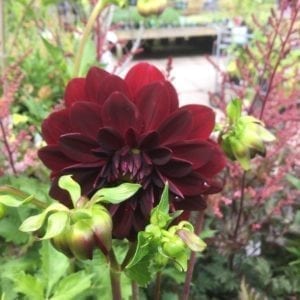 Ready flowering pots of Dahlias are ideal to lift the colour of a boring green border. You can plant the dahlia or re-pot it into a larger ceramic pot and then just stand it in the border. They flower into November. Dahlias aren't hardy so you can either bring them into a frost free place or leave them for nature to take over having had 4-5 months of flower for the price of a bottle of Prosecco on offer.
Geraniums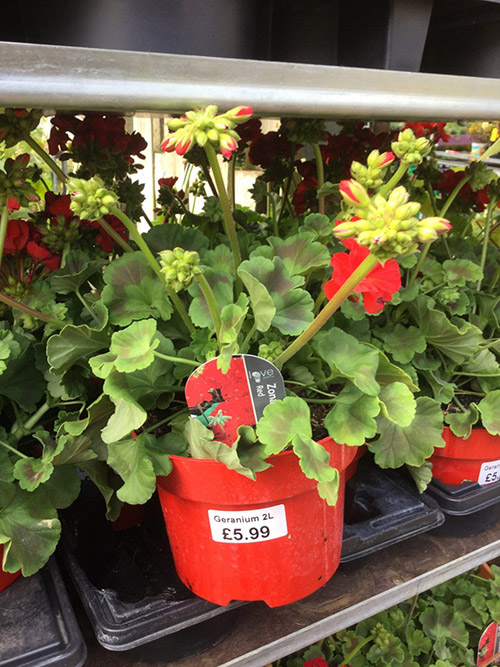 In July we have summer flowering Zonal Geraniums (Pelargoniums) in larger pots in full flower that you can use like the Dahlias above to add some zest to your border.
Don't forget to water
See our helpful and essential water guide.
ALSO to Plant Now!