Houseplants are more popular than ever but know a few simple tips and you will have more success.
Winter seems like a time for indoor gardening but your houseplants would be happier if you left them alone. As with many things everything comes together and the best time to repot indoor plants is when your busy outside too. 
April is the best time of year if you need to repot a houseplant. Simply it's because the days are longer, the average temperatures are higher and plants are growing.
When you repot any plant you may be doubling the volume of compost in the your new pot even though the pot might only be the next size up. 
 This becomes critical in winter. This extra compost can hold a lot of cold water and this can damage the roots of your freshly re-potted plant. The symptoms of damaged roots is a wilting plant, which naturally you will interpret as the plant being short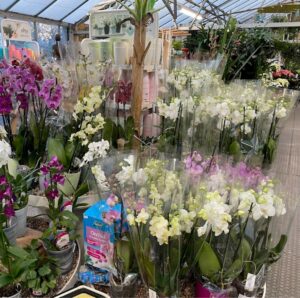 of water. 
This will 'make' you water the plant to over come the wilting, but unfortunately this makes the problem worse. The plant is short of water because the damaged roots can't take up water as normal. 
Re-potting in April helps overcome these winter watering issues because your plants are ready to grow new roots in the warmer temperatures. Also the longer days enable your plants to evaporate (transpire) extra water. to enable your plants that need re-potting to grow quickly water the plant before potting into the new pot and compost but keep the new compost as dry as it comes out of a fresh bag. This means the roots have to search for water in the new compost. 
Tip: Compost – if your compost is stored in your cold shed or it's a new bag from Ferndale bring sufficient compost into your home 24 hours before you plan to pot so that it is warmed ready for re-potting. This stops the cold water damaging the roots too.