Christmas at Ferndale Garden Centre and it's better than ever (not our words but returning customers). We love Christmas so much that we spent weeks selecting and sifting through the best UK and European ranges for our seasonal favourites and all the new exciting decorations and trees for Christmas 2018.
Christmas 2018 highlights
Extra artificial Christmas tree range.
Increased Micro light range
Unicorn Decoration selection
Forest Green Colour way
Battery Operated lights
The hit in Christmas lighting in 2017 were Micro lights. this years range is wider than ever.  Minute LED lights built into the silver uncovered wiring make decorating stylish and practical. The stiffened silver wires, rather than green covered cable, can be formed into shapes and become self supporting.
Available in timed battery lights for indoors and out  right through to special shaped forms that you drape over a decorated tree from the built in tree top ring. Micro light twig trees complete the look for indoors or out.
We've been delighted with our existing suppliers trees for many years but wanted to offer you a wider range in 2018 with our new  American inspired Christmas trees. In the new range there are a bigger selection of moulded tip trees that when decorated look like real trees.
Many of the new Christmas trees are available pre-lit with LEDs which will save you hours when displaying your tree as the lights are already in place. LED lights last for up to 50,000 hours, which is a lot of Christmases and if one should fail the rest of them stay on, unlike traditional lights. No more finding the failed bulb, testing and carrying packs of spares. LED lights use 10% of the power of traditional lights.
New colour trends and themes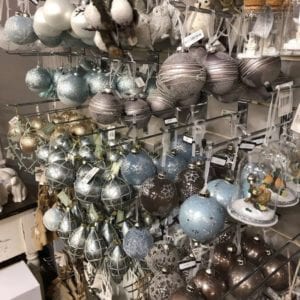 Some garden centres name their themes, we don't. We give you ideas for you to interpret at home.
Green has grown again as a Christmas colour but along with other lighter colours to give it a fresh look. The darker green along with ……….has a nostalgic classic look, while the lighter blue green looks great with frosty colours for a fresh look.
Unicorns
Unicorns have appeared everywhere this year and of course they've become Christmas decorations too, just a few though.
The latest battery operated lights have been a hit for the last 4 years. Designed for indoors and all the outdoors British winter can throw at them, these modern LED battery lights have a built in timer. You set the timer the first time you switch the lights on. For example if you set them to come on at 5pm, they will stay on for 6 hours and then turn off. At 5 the following evening they will switch on again and repeat this action until the batteries run down. This will usually take you beyond Christmas. Available in sets from 24 LEDs to 240 LEDs you can light shrubs and trees down the garden without the need for outdoor sockets and trailing wires.
Call in NOW, for the best choice, best displays and ideas for your Christmas home.